Ensuring the public schools our students deserve!
2022 Leon County School Board Elections
Leon County School Board Endorsements
LCTA ENDORSED CANDIDATES - Those who will support you!
Leon County School Board District 1- Alva Striplin
Leon County School Board District 3- Darryl Jones
Leon County School Board District 4- Alexander Stemle
Leon County School Board District 5- Marcus Nicolas
Leon County Commission At Large Group 2- Josh Johnson
Tallahassee Mayor- Kristin Dozier
Tallahassee City Commission Seat 5- Adner Marcelin
Leon County Judge Seat 1 - Jason Jones
Tallahassee City Commission Seat 3- Jeremy Matlow
Supervisor of Elections- Althera Johnson
Florida House District 9- Allison Tant
Florida House District 8- Hubert Brown
Florida Senate District 3- Loranne Ausley
LCSB Candidate Screenings
2022 Senate and House Budgets
Update = November 4, 2021
Google Drive Update: Some basic features of the internet are going to be blocked starting next year in LCS. 
The district's stance is that to protect our students we must block high-risk sites and cloud services such as Google Drive, and Dropbox.  They were ranked above a threshold and will be blocked from access on June 1, 2022.  While other sites like Apple-iCloud, Facebook, and YouTube will not.  The ultimate decision is the superintendent. We hope you feel this is an important topic and you will take time to provide input on and support LCTA's efforts to ensure the inclusion of instructional staff in decisions regarding the needs of our students and classrooms.
For more information click the link.
Educators were respected

Educators were treated as professionals

Educators had the autonomy to make decisions based on student needs

Educators were provided a career path

Educators were a part of the discussion and looked to when making decisions
The issues we are facing have always been there. However, non-educators have become the voice of what is needed as we have grown quieter. We turn to the water cooler, coffee maker, lunchroom, and before and after-school banter, and in doing so, we have chosen to stay inward rather than communicate outward. We must change our habits to change the results. It is the only way to attain a presence and movement for positive public education initiatives that build on the better times of the past while realizing new beginnings. So, the questions then become – "What will we choose to do?" "What do we need to fight for?" What do we deserve?"
Some will say that when we focus on stabilizing the profession of public educators, we are negatively impacting students. Simply put, they are wrong. It is time we all stood up, shared our personal stories, and stopped feeling guilty for wanting not only what is best for our students but for our families.
So, on this day, I ask you to take that first step in building a movement. Make this day, the next, and the days that come fulfilled with a purpose to be a part of something that others will talk about and want to be a part of for years to come. I ask you to be the leader others need.  I ask you to forgive yourself when you don't have the strength to be that leader. I ask you to lean on others in our community of shared purpose when you doubt.
What now? Now we organize. Now we support. Now we prepare for YOU to lead us into a legislative session that will have an agenda that may not be about you, your family, or your students. This is our time to begin the journey. Please join by doing the following:
Share the survey on all social media platforms.

Text "edactivist" to 22394 to receive FEA Action Alert Texts
I started this journey with you all when I decided enough was enough. We can and will do better, I told myself then. I still live with that purpose each day. There are countless of us who feel the same way and many who have stepped up to lead. Now is the time to join us. My phone number is 850-294-6811. If you need someone to listen, if you need someone to be there, please reach out.
In solidarity,
Scott Mazur, LCTA President
LCTA Newsletters 2021-2022
NEA Vaccine Survey
The NEA Center for Communications will be conducting a national survey over the next two weeks to track members' vaccination status, and ask about their concerns and opinions heading back to school.
Not all members will receive this survey. If you receive queries about this survey, please confirm that it is a legitimate survey. The details of the email can be found here. If you have any questions, please email Erica Seifert and David Margolis, eseifert@nea.org and dmargolis@nea.org.
NEA and AFT Vaccine Statements
NEA President Becky Pringle announced this week that the NEA supports mandatory vaccination or regular Covid testing for all U.S. public school educators. Her statement can be found here.
The Executive Council of AFT passed a resolution guiding the union on workplace vaccination policies in light of the rising number of Covid-19 cases associated with the Delta variant. The announcement can be found here, and the resolution can be found here.
FEA Safe Schools Report
We know that Covid is spreading in schools, and, as we did last year, we are setting out to document how extensive that spread is. While we remain hopeful that the Florida Department of Health will again produce weekly reports on Covid in Florida's schools, we are not waiting for them. Information from all the school districts that publicly report Covid cases in their schools can be found in one place on our Safe Schools Report.
GPS Fund Planning Grant – Upcoming Deadline
The deadline to apply for GPS Fund Grant is quickly approaching. Interested locals should submit a Planning Grant application no later than Sept. 15. Information on the GPS Fund Grant Program, including guidelines and the application link, can be found at nea.org: https://www.nea.org/student-success/great-public-schools/gps-fund-grants.
For Planning Grant guidance and resources, go here. https://www.nea.org/resource-library/gps-fund-planning-grant
For links to planning webinars, go here. https://floridaea.sharepoint.com/:w:/s/FEA-External/EVwOShaPJmZFnUqLmms4WrUBAd-c3XVhr1WykeCqAKu8GA?e=MLGASe
Please send any general GPS Fund Program inquiries to GPSFund-PF@nea.org.
FYRE (Florida's Young Remarkable Educators)
We are excited to begin Cadre 8 of Florida's Young Remarkable Educators (FYRE) for the 2021-2022 school year. FYRE is a great way to build activism in your local, appeal to younger teachers, support staff, grad assistants and professors — and develop lifelong union activists. If you are interested, please consider adding one or more members (it is always better if there is more than one member from a local) from your local to this cadre. They should be members with less than 10 years of experience who are age 35 or younger (preferred). Meetings will begin in September with some being in-person and some being virtual. We ask for a participating local to support the growth of a local FYRE group. Past FYRE members have gone on to become leaders in their local, become school board members and all have become engaged union members. We have attached the proposed calendar here. We hope you will add your local to the FYRE!  Names should be submitted here by Aug. 28.
Back to School Video
Back-to-school season is here, and teachers and staff are making their way back to their classrooms to start preparing for the school year.
If this past year has taught us anything, it's that we can do amazing things when we come together. As a member of your union, you are never alone in the work you do every day. As you head back to your school or campus, talk to your colleagues and ask them to join with us so that we can build a better future for Florida together. Click here to watch on YouTube and here to watch on Facebook and please share it with your members.
What we are fighting for in 2021!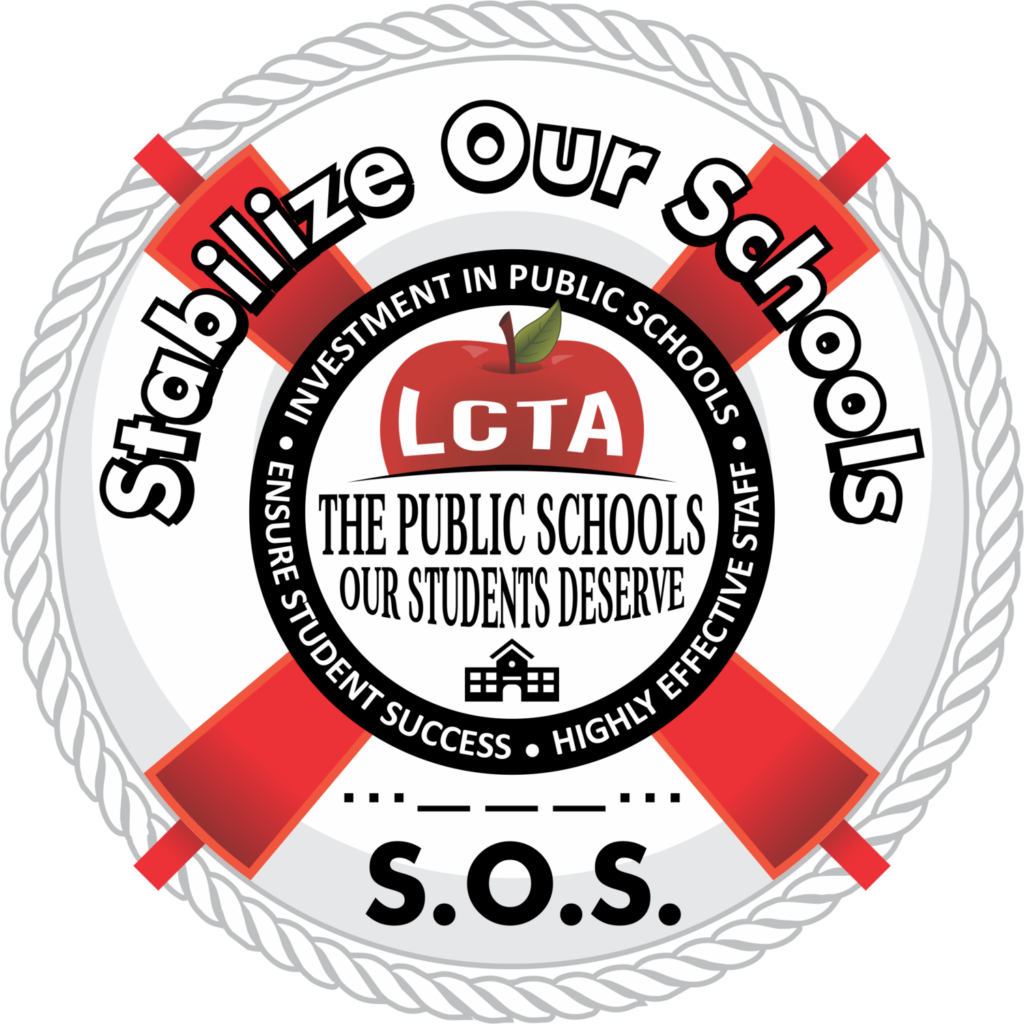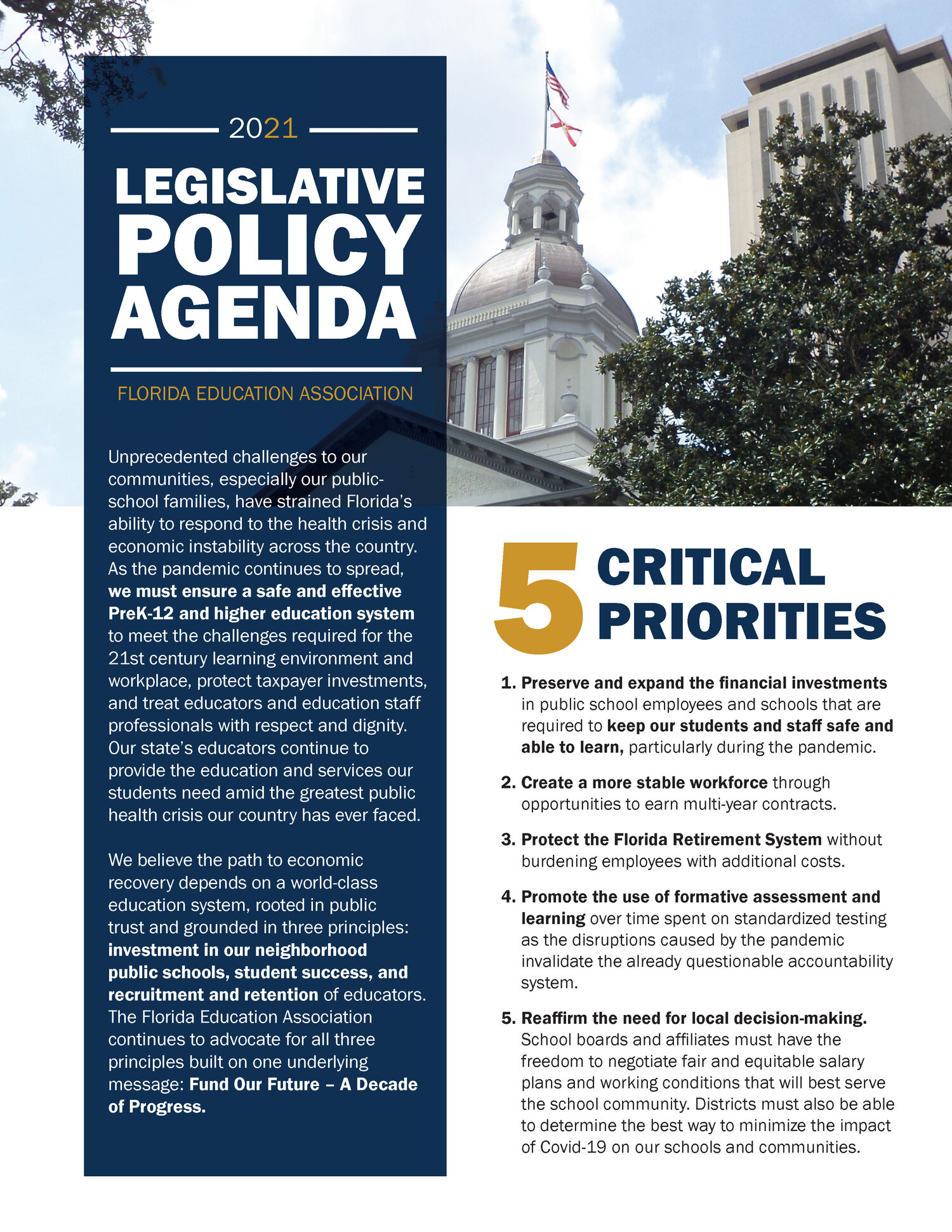 FEA Frontline Report: 1st Committee Week 2022 Legislative Session 1st Committee Week September 24, 2021
Week One
Here we go again. The first committee week of the 2022 legislative session has officially concluded. This week, as is usual in first committee weeks, was full of presentations, pomp and circumstance and just enough of a slight cool breeze in Tallahassee to make you think fall is around the corner.
 Viewpoint Diversity Survey (HB 233)
Members of the House Post-Secondary Education and Lifelong Learning Committee heard from the Board of Governors (BOG) regarding the implementation of two bills that passed during the 2021 legislative session — tuition and fee waivers (House Bill 1261) and the "viewpoint diversity" assessment (House Bill 233).
As of this moment, the "viewpoint diversity" assessment is in development. HB 233 stipulated that the BOG could create the survey themselves or contract with a company. The BOG has decided to work with the Florida State University Policy Institute to craft the survey.
According to the chancellor, the BOG and the Policy Institute are still working on developing the survey questions and deciding how the results of the assessment will be analyzed and distributed. Neither the BOG nor the committee members mentioned the United Faculty of Florida (UFF) lawsuit regarding the survey and its implementation. Only one member appeared interested in the survey, and very few questions were asked about the implementation of this fairly contentious bill.
House Bill 1261 introduced three new tuition and fee waivers: Select STEM, Grandparent and Free Seat Waivers. Two of the three waivers (Select STEM and Free Seat Waivers) are now available for eligible students. The Grandparent Tuition Waiver will not be available until Fall 2022, and only 350 students per year will be able to claim the waiver.
 Federal Covid Relief Funds
The House PreK-12 Education Appropriations Subcommittee meeting began with a brief presentation on the Florida Department of Education's legislative budget request (LBR.) The FLDOE has developed a budget request that forecasts a 118,288-student increase over the 2021-22 budget but only increases the per-student funds by $6.35. This increase in student enrollment represents both an optimistic view of students returning to public schools after shifting to other options for the past couple of years, and the shift of voucher students from funding through tax-credit diversion to direct public funding through the public-school funding formula.
Next came an inquisition on the use of federal ESSER funds with the FLDOE representatives answering questions about their efforts to collect and report the data that school districts reported on the infamous missing students from the 2021-22 school year. You may recall that the state's enrollment showed a drop of nearly 80,000 students in the fall count. Districts have been required to find the students using some of their federal ESSER funds. Thus far, most of the students have been tracked to another school or district or re-enrolled in the district, but there are still 16,500 students who are unaccounted for and another 8,000 who have either dropped out (over age 16) or are truant.
The FLDOE data reported to the committee shows that very few districts have spent any of their ESSER funds looking for students, but as Rep. Matt Willhite (D-Wellington), Rep. Robin Bartleman (D-Weston), and others pointed out, expenditures take time to reach the district and FLDOE accounting offices. Their point was that implying that school districts are not doing their part to use the funds to find missing students, or to spend the federal assistance, is disingenuous; payment on delivery is responsible financial management and many orders have been delayed by Covid-related issues.
The rest of the meeting was spent discussing federal ESSER funds and district expenditures as well as the similar pattern in the early childhood expenditures that come from a separate ESSER federal grant program. Again, Chair Randy Fine (R-Palm Bay) took great pains to criticize school districts for not spending their available funds while also pointing out that the districts did not actually have access to most of the funds the state is holding. Talk about mixed messages. The short meeting schedule left little time for further questions from the members of the committee.
 Standards and Assessment
The Senate Education Committee's first meeting of the 2022 session included a presentation by Chancellor Jacob Oliva. The chancellor reviewed the history of Florida's curriculum and standards adoption process from the Sunshine State Standards in 1996 to the future implementation of the Benchmarks for Excellent Student Thinking (BEST) standards in ELA and math, as well as additional standards in civics and government, and other areas.
Oliva also reviewed data on 2021 testing and the statistics on school grades for the 20 percent of schools that decided to have their school grades calculated (remember this was optional for all schools and districts, so only 11 school districts opted to receive a grade this year). Not surprisingly, all schools and districts that opted into school grades either improved their grades or maintained an A.
Next on the agenda was a summary of the state accountability system, as the governor and FLDOE have proposed we transition from the Florida Standards Assessments (FSA) to the Florida Assessment of Student Thinking (FAST). The stated intent is to eliminate the previous standards while maintaining accountability and move to a system of progress monitoring that will used adaptive computer testing three times a year. Under this proposal, FSA testing continues in 2021-22, then the new tests will be piloted and accountability "paused" for 2022-23, with full implementation in 2023-24.
As many have said, the devil is in the details. Our members have been clear that the old test-and-punish system is not working, and policymakers have gotten this message. There are many unanswered questions including the who, what, where, when and how of the test design. Rest assured that FEA members will be in on the discussions about how to gather and use student learning information in a way that helps students. Who better than those in the classroom to guide what is working and what needs to change. Stay tuned for what we suspect will be a particularly lively discussion in the weeks leading up to the session and beyond.
 Early Learning and School Readiness
The Early Learning and Elementary Education Committee met Tuesday. The committee focused on the implementation of HB 7011, sponsored by Rep. Vance Aloupis (R-Miami) and passed during the 2021 session, which addresses Florida's student literacy and school readiness rates. FLDOE Vice Chancellor for Literacy Cari Miller and State Regional Literacy Director Melissa Miller gave presentations on the statewide plan for providing students, educators, and parents support based on the mandates of HB 7011 and the difference between the current CARES program and the new RAISE programs.
The committee also heard a presentation by University of Florida's Dr. Elayne Colon, director of Assessment and Accreditation, and Dr. Tina Smith-Bonahue, associate dean of Student Affairs & Graduate Studies, regarding the teacher preparation program that would include a reading endorsement to meet the qualifications of HB 7011. There are still questions about current educators and the path to the reading endorsement. We will continue to keep you updated on what implementation will look like for our members.
Speaker Designation Ceremony
Finally, the House Republican Caucus gathered ─ joined by their Senate counterpart and many current and former Republican members, distinguished guests including members of the Florida Cabinet and fellow dignitaries ─ to nominate Rep. Paul Renner (R-Palm Coast) as the official Speaker-designate to be speaker of the House for the 2023-2024 legislative sessions. Reps. Tom Leek (R-Daytona Beach) and Bobby Payne (R-Palatka) made the first and second nomination speeches.
In Speaker-designate Renner's acceptance speech, he touched on the importance of making sure that children have all they need to succeed. Renner focused on working together with his fellow colleagues. He stated, "We can either succeed together or fail alone. … We can tackle big problems with bold, lasting solutions." He told lawmakers, "We believe in the nobility of work, and we honor those who show up to work every day."
Unlike previous speaker-designates, he spoke very little on education, but what he did say continued a message around supporting all so-called "choice" options stating, we "support parents to choose the education choice that is best for them," and then saying, "children deserve to grow up in a neighborhood where it's safe to walk at night, go to a school that isn't failing and get out of poverty."
One of his most memorable statements, which we hope is an indication of how Renner will preside over the chamber was, "Bullying people to conform to one set of ideals isn't progressive, and it's certainly not American."
Only time will tell …
How You Can Take Action Today
Visit the FEA website to learn more about the session and sign up for FEA Action Alert texts.
2022 Legislative Session Updates
FEAweb.org/Session
FEA Action Alert Texts
Text "edactivist" to 22394
Questions?  Call PPA at 850-224-2078.
If this email was forwarded to you, click here to subscribe to the FEA Frontline so you can receive these updates regularly.
Contact the LCTA Legislative Committee – LCTALegislative@gmail.com

Working Family Lobby Corp

The Working Families Lobby Corps will continue, though in a remote and virtual manner. Volunteers are not required to travel to Tallahassee, saving local unions the resources needed for travel and lodging. While we would encourage participants to commit to a full week of virtual activities, that is no longer required. Volunteers can commit to almost any time configuration to participate in the program. Here are some activities we are currently anticipating:
Regular remote briefings for participants
Virtual meetings between participants and legislators
Committee viewing and if possible, virtual testimony
Virtual phone banks to alert members of critical issues and legislative processes.
Letter writing campaigns
Other safe, in-district, and virtual activities.
Let me know if you have any questions!
 Contact: Danielle Thomas, Northwest Florida Federation of Labor Field Staff, Florida AFL-CIO, 850-320-0884
AFL-CIO: Join the fight for good jobs and fair wages.
Solution Based Superintendent Meetings
In early December, the Leon Classroom Teachers Association (LCTA) and Leon County Schools (LCS) met for the second time to discuss the issues impacting you and your students. As Superintendent Hanna promised, he will be at the table with teachers and instructional staff moving forward. On December 4, 2020, LCTA met with Superintendent Hanna and Assistant Superintendent Deana McAllister to debrief and continue the work of improving safety, morale, and communication. In our continued commitment to improved communication and continuity, LCTA and LCS have the following updates:
UPDATES:
Mental Health

If you need to access the free employee assistance program, please call (850) 431-5190.

Superintendent Hanna is beginning Mental Health Wednesdays. Beginning with Wednesday, December 16, 2020. Please see the attached documents for consideration.

Although there are services to assist employees, concerns about the root cause of the stresses not being addressed were shared.

Communication – LCTA and LCS talked about prioritizing what needs to be completed and communicating the priorities to all instructional in a uniform and transparent manner.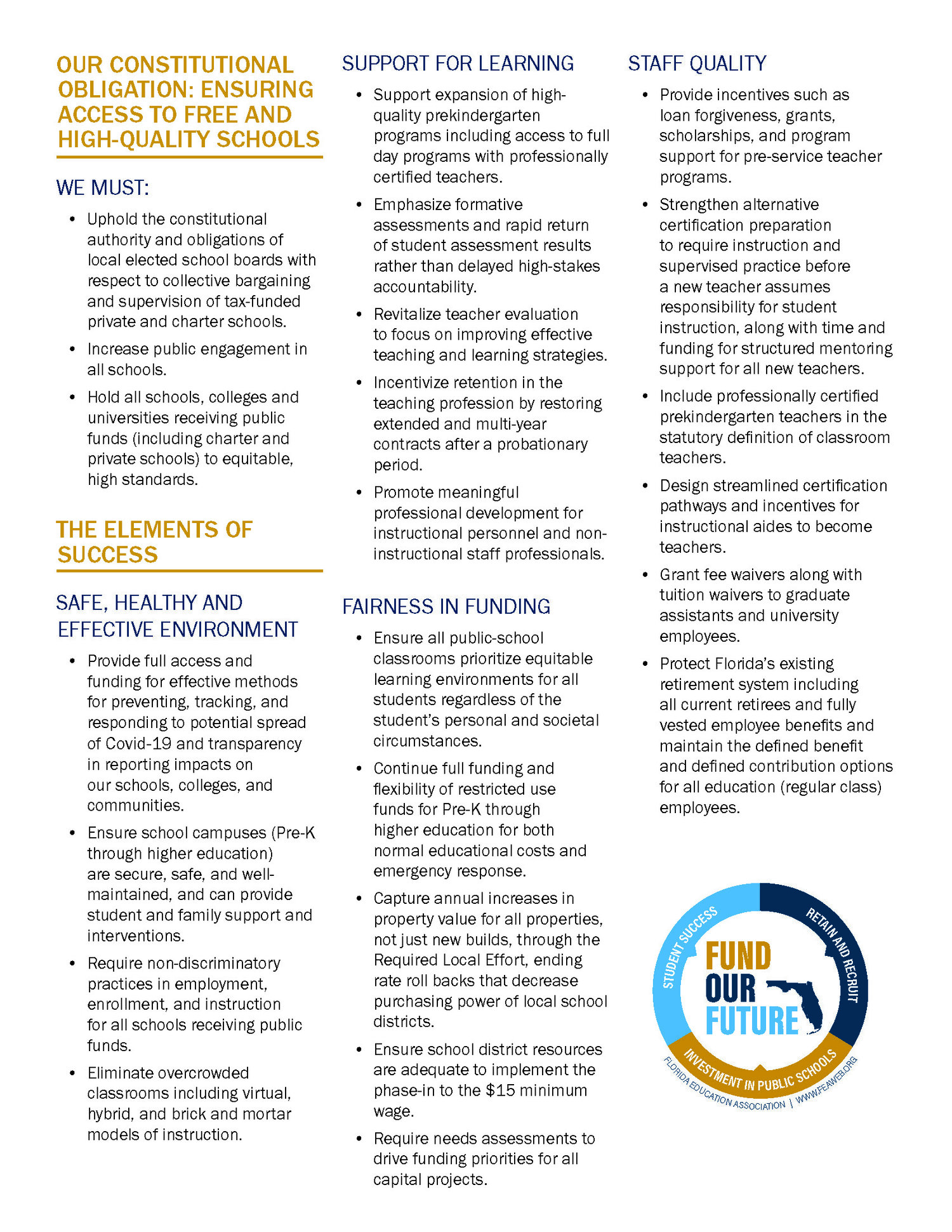 Internet Issues

Canvas Communicating with Focus – Grade communication will be in place by the beginning of the 2021-2022 school year. LCS will continue to try and implement it during the 2nd semester.

Virtual Volunteers –Dr. Michele Gayle will be inviting the Labor and Employee Relations Office and LCTA to discuss the matter in January. (LCTA has requested this program for four months.)

Hotline – The Teaching and Learning Department will share supports for students for online tutoring supports in the coming week. We are currently working through the legal requirements in order to provide this support to our students. Be sure to check the weekly updates.

CSAPS and Truancy – The process is being reviewed to ensure the proper forms are in FOCUS, provide automation, and reduce redundancy. A district procedure to ensure continuity will be shared with administrators and staff. Additional supports will be provided to engage truant students. Assistant Superintendent Dr. Kathleen Rodgers has met with LCTA leadership to discuss the concerns as we are working together to resolve the issues presented by CSAP.

Time –LCTA and LCS are working to collect ways in which school sites are providing additional time for teachers. There are still some sites where educators are saying measures are not being implemented. LCS said they would share how each school is providing additional planning time, so all school sites have access to the same opportunities. LCTA will request an update and how each school is addressing the issue. (An information request was sent to the site administrator on 12/11/20, and LCTA is still addressing the issue of student contact time through the grievance process.)
In addition to following up on the previous issues, the following items were also discussed:
Forum Page – Our greatest asset in a student-centered curriculum is our educators. You are using countless hours to create and modify existing content. Therefore, LCTA has requested LCS provide a forum page for all content areas and subjects. The page would allow teachers to upload and download content in an effort to share resources. We are working with the Professional Learning Department to ensure that this information will be sent to LCS Teachers All.

Site-Based Decisions – Many of our sites have needs that require the input of instructional staff to meet the community, school, and students' unique needs. Therefore, decisions such as the use of the hybrid model and block scheduling can be made at the school site.

Health and Safety – LCTA and LCS have met numerous times to ensure the concerns of educators are heard, and the proper information is shared with all staff. In a recent meeting on November 24, 2020, LCS said school sites must meet the LCS protocols, but they can make a site-decision to go above and beyond those protocols.

COVID

Employee Direction – When an employee has been exposed to a positive case of COVID, they need to email their site administrator and email leonschoolcovid@flhealth.gov, and you will receive a response within the hour from the Leon DOH.

Consistent Information – Email leonschoolcovid@flhealth.gov and you will receive a response within the hour regarding any of your COVID questions.

Dashboard – LCS can only post what is provided to them. Parents must contact LCS or the Leon DOH. Data posted in the Florida DOH statewide system, Merlin, have a two-week delay in providing LCS information.

Parental Reporting – Educators are asking for a district policy to govern parents not reporting positive cases.

Communication – LCTA has suggested an LCS District All calendar and communication channel to disseminate information. LCS is assessing possible solutions.

Frontline – LCTA has requested a single user login on the platform to make the process of securing a substitute easier. LCS is looking into the issue.

ADA and FMLA – LCS will provide detailed examples of what qualifies for ADA and FMLA. LCTA has also asked that cases be reviewed and verification of communication be provided for all requests.

Tech Guru – To assist teachers at school with their technology needs, LCTA and LCS will work together to provide resources.

FSA Testing – Although there are concerns about the impact of standardized testing on schools and classrooms, Superintendent Hanna has repeatedly said he is not concerned about test scores or school grades. He is asking we get better as we do and take care of the students and ourselves each day.

In Practice: Educators are asking for grace, compassion, and flexibility to be a part of our daily practice. Therefore, LCAT and LCS will work to ensure everyone is putting these words into practice.
LCTA and LCS will continue to assess the implementation of solution-based initiatives and surveying instructional staff regarding their needs.  You are the experts in the field, so your input is critical to implementing the best solutions. LCTA and LCS look forward to enacting change together.
Many of you have received emails over the past few days pertaining to compensatory time. Based on the work you have done through the bargaining process, the following was communicated with site administrators:
LCS EMAIL #1
Pursuant to the Memorandum of Understanding between LCS and LCTA dated October 20, 2020, please adhere to the following as it relates to Teacher Compensatory Time:
Compensatory time accrued/earned in the 2020 – 2021 school year can be used or carried over to the 2021-2022 school year, any compensatory time not used at the end of the 2021 – 2022 school year will be lost. 

Compensatory time may used:
During the school day when agreed upon by both parties and the overall operation of the school is not adversely affected

During an emergency situation, at the principal's discretion

In lieu of sick leave. Every effort will be made to approve such time as requested by the teacher.
Some examples of how compensatory may be issued are as follows:
Is requested to sit with students during the regular scheduled lunchtime.

Acts as a substitute teacher in a classroom.

Is requested to attend an activity beyond the contact day. For example:  
Meeting outside of regular  school hours

Helping with parent night

Special School programs

Special Parent Conferences after school hours
See the attached documents for properly documenting the issuance and usage of comp time. Your site designee will enter the comp time using "COMPT" for the code in to the Skyward System.
Please place these forms in a location that will be easily accessible to your teachers.
LCS EMAIL #2
Per the LCTA Collective Bargaining Agreement, student contact time (which includes assigned duty) should be as follows:
·         Elementary- 300 minutes
·         Secondary- 315 minutes
Due to the COVID-19 Pandemic beginning with the 2020 – 2021 school year, some schools have gone over the contractual student contact time. The issuing of compensatory time this is not an option. As you all work to implement this process, please take into consideration the time and work already provided by teachers that should be considered for the issuing comp time.
In unity,
Scott Mazur, LCTA President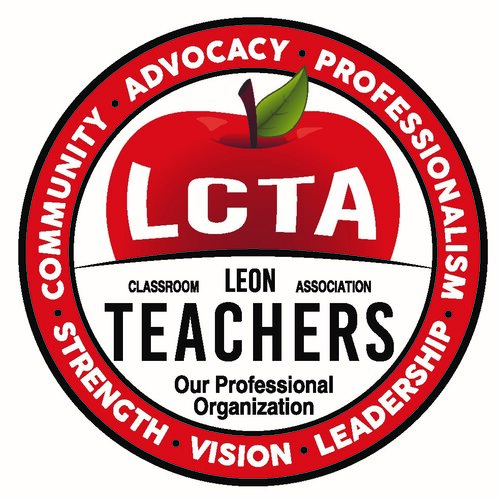 Do you know your comp time plan?
Talk to your LCTA Building Representative if you have questions.