Ensuring the public schools our students deserve!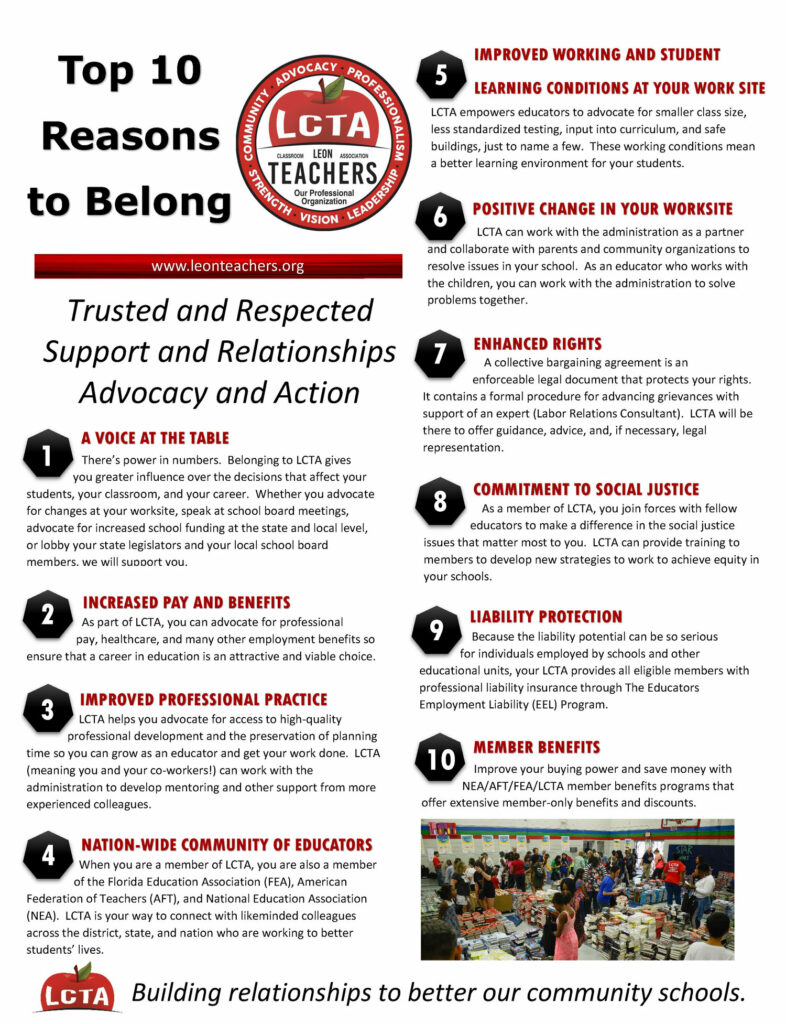 Our society has become one of the most litigious in the world. As a teacher, you are responsible for the students in your classes on a daily basis. The possibility of a misunderstanding is great. You need LEGAL and PROFESSIONAL PROTECTION. Just as none of us would dare drive our cars without insurance, nor we should not step into a classroom without protection either.
We are the only organization that provides you with this legal and professional protection and it is included in your dues. We provide each member with a $1,000,000 professional liability insurance policy. Hopefully, you will never need this protection, but if you do it is available for MEMBERS ONLY. Plus… As a member, you are only a phone call away from someone who can assist you with problems at your worksite. The LCTA has both a full-time President and Vice-President available to assist you by attending meetings with supervisors, etc.
LCTA is a professional organization that is the exclusive bargaining agent for teachers and paraprofessionals in Leon County. This means, in addition to providing MEMBERS ONLY opportunities such as free professional development, we negotiate your salary, benefits, working conditions and rights. We represent and advocate for MEMBERS ONLY in cases of contract violations.
Do I have to join the LCTA?
There are many, many reasons to join the union, but because Florida is a "Right to Work" state, you are not obligated to join. Currently, we have over 800 members who believe that their membership is a valuable tool for improving themselves, their working conditions, and their profession. You don't have to join, but why wouldn't you?
Is the LCTA a political organization?
No union dues are used to support political causes or candidates. However, we realize that educational policies and funding are entwined with politics at a local, state, and national level. LCTA does not have a political action committee (PAC) but LCTA does endorse candidates who advocate for public education and educational issues on the local through national levels. 
What other organizations are affiliated with the LCTA?
We are affiliated with the Florida Education Association (FEA) in Tallahassee, the American Federation of Teachers (AFT) and the National Education Association (NEA) in Washington and the AFL/CIO state and national organizations. We are one of only a few state organizations that is merged with both the AFT and NEA. This means we have a statewide organization of over 120,000 members which gives our members the benefits and the resources of two national organizations.
What is Collaborative Bargaining?
We use a process called Interest-Based Collaborative Bargaining in Leon County to solve problems and negotiate the best pay and working conditions for our members. It affords the union the opportunity to participate in almost every level of decision-making throughout the district. Our voice is heard by the School Board, the Superintendent, and school-based administrators because we are invited to be a part of the process. The collaborative relationship, as opposed to a more adversarial one, has proven very successful. Our first priority is always to advocate for our members, but we are professional in our relationship with administration and do join with them when necessary to further the cause of public education in Leon County.
What Other Benefits Does the Union Offer?
Because we are affiliated with state and national unions, our members become part of a massive network of education professionals and other union members. There are many discounts, special offers, and exclusive training opportunities available for members only. When you become a member, you will receive highly regarded, exclusive professional journals, invitations to attend exclusive training through the Education, Research, and Dissemination program, and a membership card that entitles you to many discounted rates on everything from movie tickets to car insurance and dry cleaning. Union membership certainly has its privileges. Click here for more information on Member Benefits.
A Voice on the Job.  Union workers have the right to negotiate with their employer over wages, hours, benefits and working conditions. Without a union, management makes all the decisions alone. Without collective bargaining, Florida teachers and education staff professionals (ESPs) would have no legal rights at all under the state's "right to work" labor laws.
Strength in Numbers.  Union workers negotiate and organize for improvements as a unified group instead of as individuals. When we work together, this collective force translates into more power and a better chance of getting our voices heard.
A Legally Binding Written Contract.  Union workers have a contract that defines and guarantees the terms of our employment. The members of the union negotiate their contract with management. With help from union staff, we decide what gets proposed, elect our own bargaining team, negotiate the contract and vote to approve the contract.
Protection and Support.  Union workers need the assurance that our workplace rights, including health and safety conditions, are being upheld and monitored and ensure the ability to challenge any unfair or questionable decisions or actions. 

Respect.  Union workers join, not because we're against our employer, but because we want to improve our jobs by joining with co-workers to gain greater respect and control over our worksite and employment.
Today, thousands of workers want to join unions. The wisest employers understand that when workers form unions, their companies also benefit. But most employers fight workers' efforts to come together by intimidating, harassing and threatening them. In response, workers are reaching out to their communities for help exercising their freedom to improve their lives.
Studies show that states in which more people are union members are states with higher wages, better benefits and better schools. While unions are just one of the factors that affect the quality of living, the pattern indicates that when workers have a voice, everyone in the community benefits—not just union members.